Tab: Customers
Waht you will learn:
Customers tab enables browsing through individual customer profiles.
Enter your search in the search box or filter for a specific customer attribute (e.g. "Revenue Total").

Search results contain:
Customer ID that displays the identity ID assigned during the identity stitching process. Each ID can be investigated further with analysts if needed,
Data Source,
Attribute,
Value for this attribute,
Remember: The last column can be customized and any of the available attributes can be displayedied.  For example, like on the screenshot below: attribute with the last interaction. To learn how to set the last column, please refer to this article.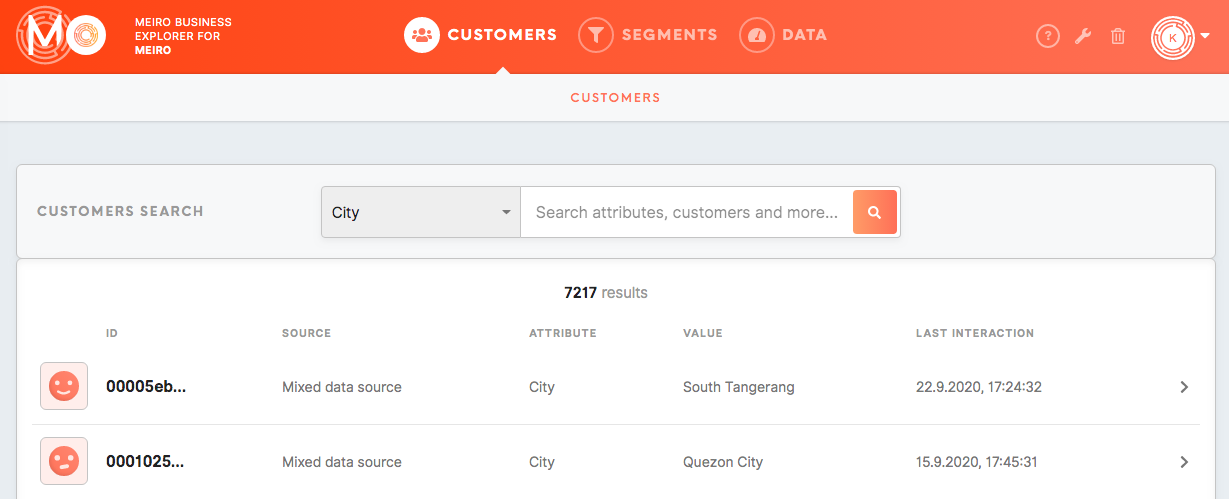 Customer Detail tab
Click on a particular customer to see this customer details (attributes, events, identity graph).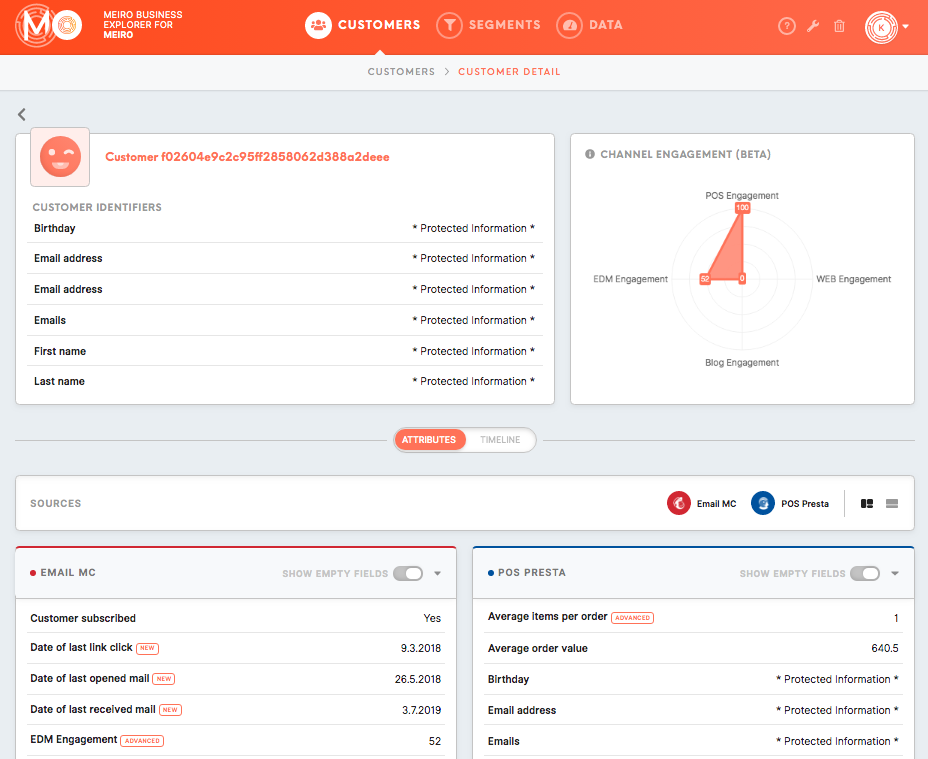 Attributes cards
On top of the page, various cards are displayed with customer attributes. Cards are fully customizable.
Customer Identifiers : Personal data collected about the customer across data sourcess. 
Channel Engagement: shows customer activity across data sources. 
Learn more: Channel Engagement-how does it work and how to set it up. 
Attributes
A list of the available attributes for that particular customer, together with their data sources. All the available attributes are listed in the Data tab/ Attributes tab.
Attributes can be personalised to customer's needs by a Meiro analyst. Please contact the Meiro team if you would like to discuss this further.
Timeline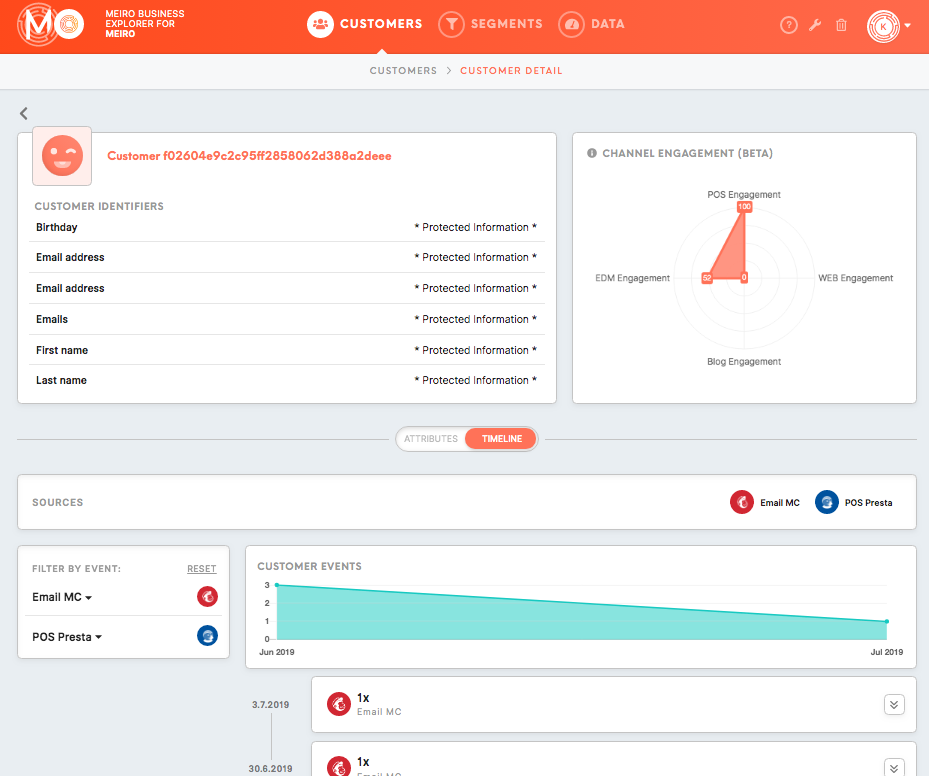 A chronological timeline of customer's activity and the Customer Events chart. All the available events are listed in the Data tab/ Events tab. 
Identity
Identity Graph shows how your customer entity has been stitched from various identifiers across data sources.
See:
Stitched value,
Event type where value appeared,
The data source of the event where value appeared,
Timestamp.
All identifiers are colour-coded based on the identifier type. 
Learn more: Identity stitching and how customer identity appears.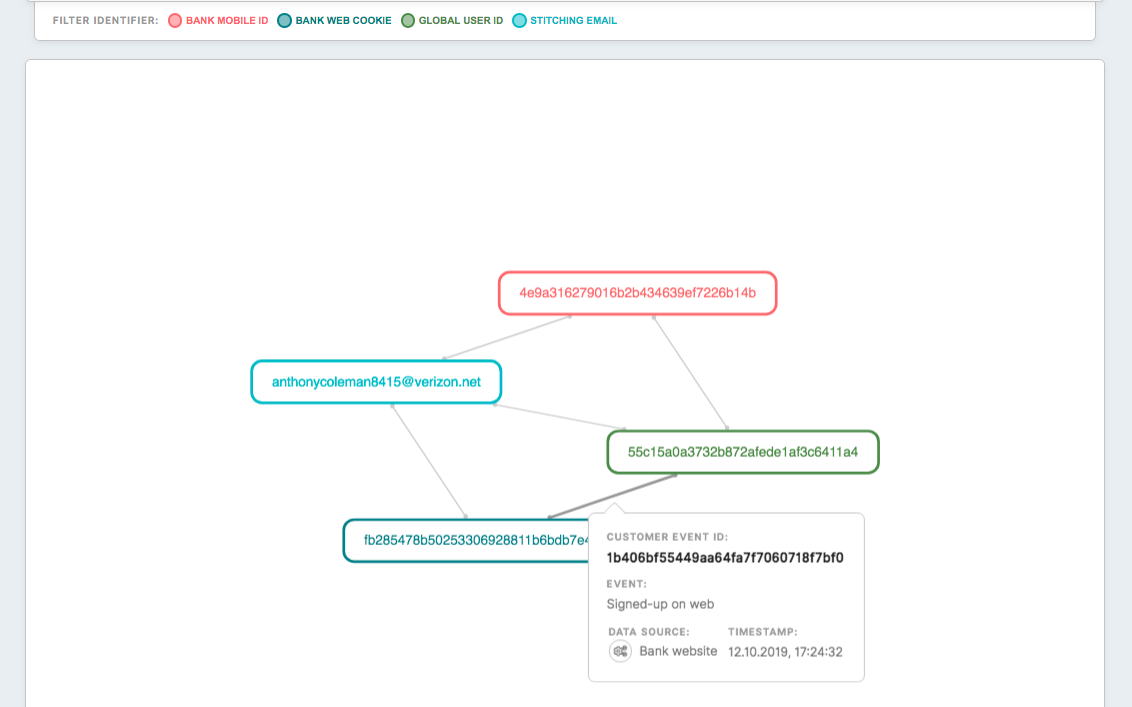 Data Protection
Data protection settings can be enabled or disabled in the Administration tab/ Settings tab. Enabling this feature helps to limit access to the customer information for non-authorised users.
Learn more: How to manage data protection. 
Learn more
Learn more: What can I understand through customer profile.
Learn more:  Identity stitching and how customer identity appears