Connector Optimizely
Optimizely is an American company that makes progressive delivery and experimentation software for other companies. 
Optimizely connector enables integrating data from Optimizely with Meiro Integrations to process it further. 
Requirements
To connect to Optimizely it is important to generate an API access token.
Learn more: To learn how to generate an access token, please refer to this article. 
Features
It is possible to load data for projects, campaigns, experiments, audiences.
Data In/Data Out
| | |
| --- | --- |
| Data In | N/A |
| Data Out | Your results will be saved as a JSON file in the Data Out bucket out/files. |
Learn more: To learn more about the folder structure please go to this article.
Parameters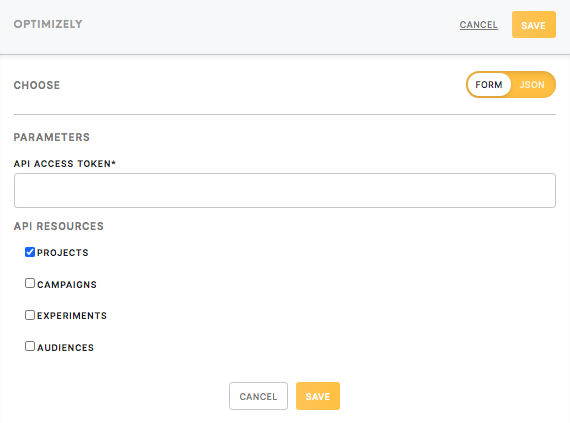 API access token (required)

To connect to Optimizely, please insert an access token. 

 

Learn more: To learn how to generate an access token, please refer to this article. 

API Resources (checkboxes)

Specify which resources you wish to download:

 

projects (will be visible in the Data Out bucket as out/files/projects.NDJSON)
campaigns (will be visible in the Data Out bucket as out/files/campaigns.NDJSON)
experiments (will be visible in the Data Out bucket as out/files/experiments.NDJSON)
audiences (will be visible in the Data Out bucket as out/files/audiences.NDJSON)