Segment export: Facebook Custom Anonymous Audience
Export audiences segmented in Meiro Business Explorer to Facebook Business Manager (Meta Business Suite), then to Facebook Pixels. Create custom anonymous audiences from Facebook Pixels to target audiences further through Facebook Ads. Check the results of your campaign back in Meiro (segment customers you sent the campaign to and check its insights and customer profiles).
Export to Facebook Pixels in Business Manager (Meta Business Suite)
Exports tab setting
Exportable

Exportable shows how many customer profiles will be exported to your destination.




This number is defined by the conditions you choose to segment the audience but also by mandatory attributes set up by the administrator (that must be present to export to your destination).




For example, if you segment 1000 profiles, but only 10 have mandatory attributes present, only those ten will be exported to your destination.




Mandatory attributes are visible in the Data Library/ Destinations tab.




For exports to Facebook Pixels, the mandatory attribute is: "Fbp cookie id". Customers who we do not know the "Fbp cookie id" for, will not be exported to Facebook Pixel.




Warning: It may happen that the size of your Custom Audience may be very low, while the size of the exportable audience from the Meiro is high. To understand more about the reasons for the low matching rate, please get acquainted with the primary article from Meta.




Parameters

Audience Name (required)

The audience name inserted here will be visible in the Facebook Business Manager (Meta Business Suite)/ Facebook Pixel section described below in point 4.




Remember: "Audience name" from Facebook Pixel, will be referred to when setting up audiences in the Audiences section of Facebook Business Manager described below.




Warning: "Audience name" in the context of Facebook Pixel is different from "Audience name" in Facebook audiences. In Facebook Pixel it is visible in the URL address visible above, in Facebook Audiences, it refers to the name of the audience.
Facebook environment
Exports from Meiro will be visible in Facebook Business Manager (Meta Business Suite) under Settings: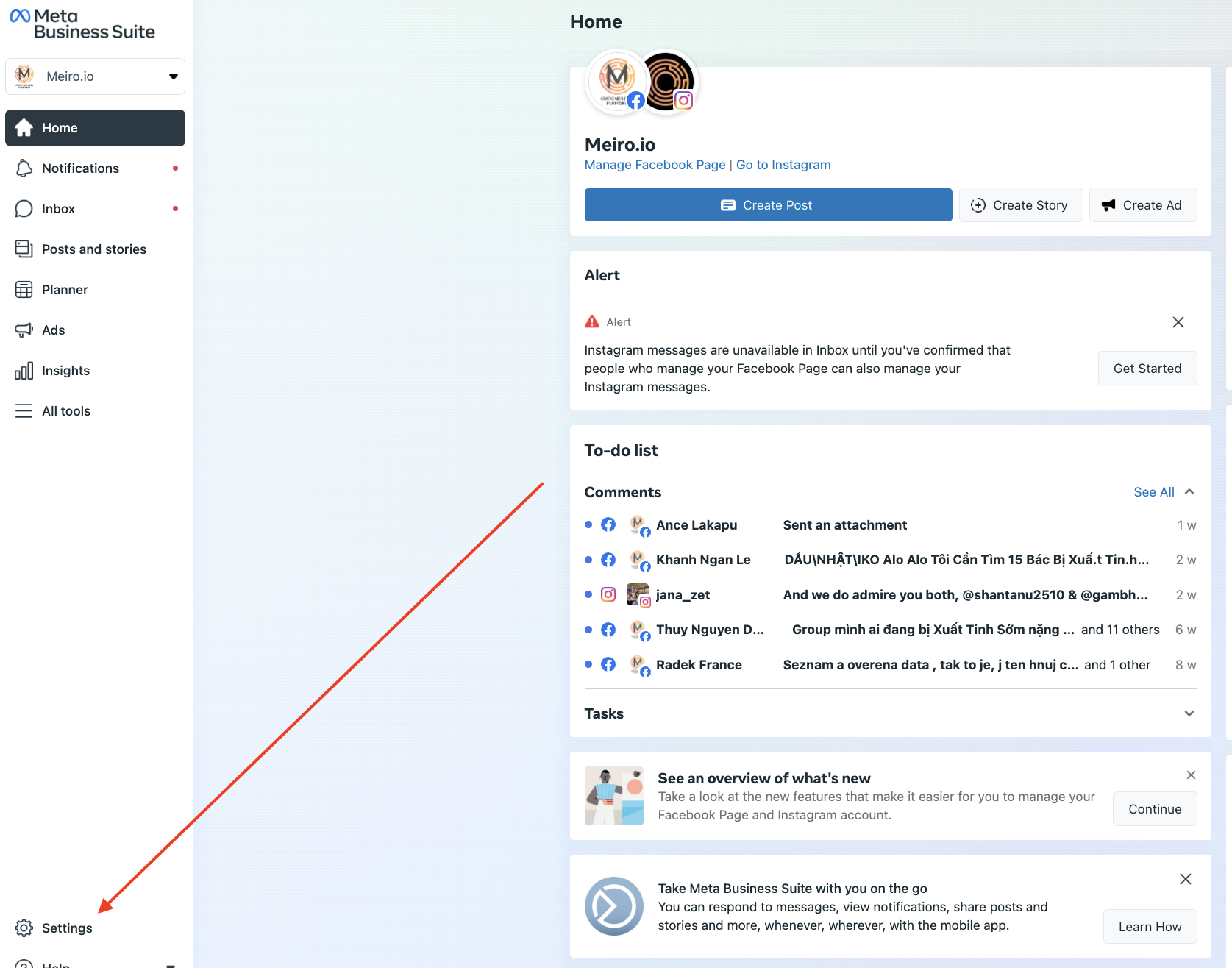 > Add account settings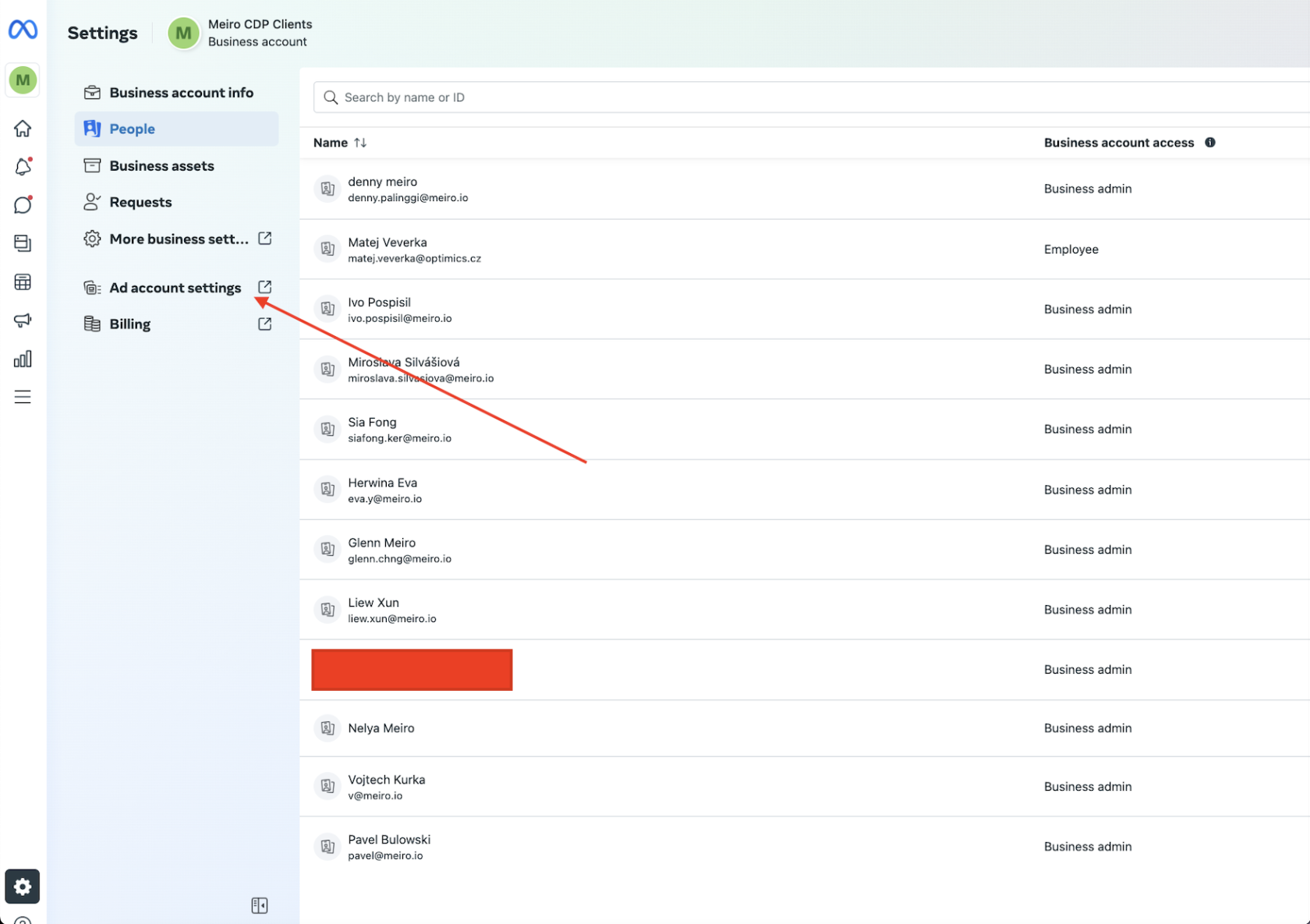 > Select account

> Event Manager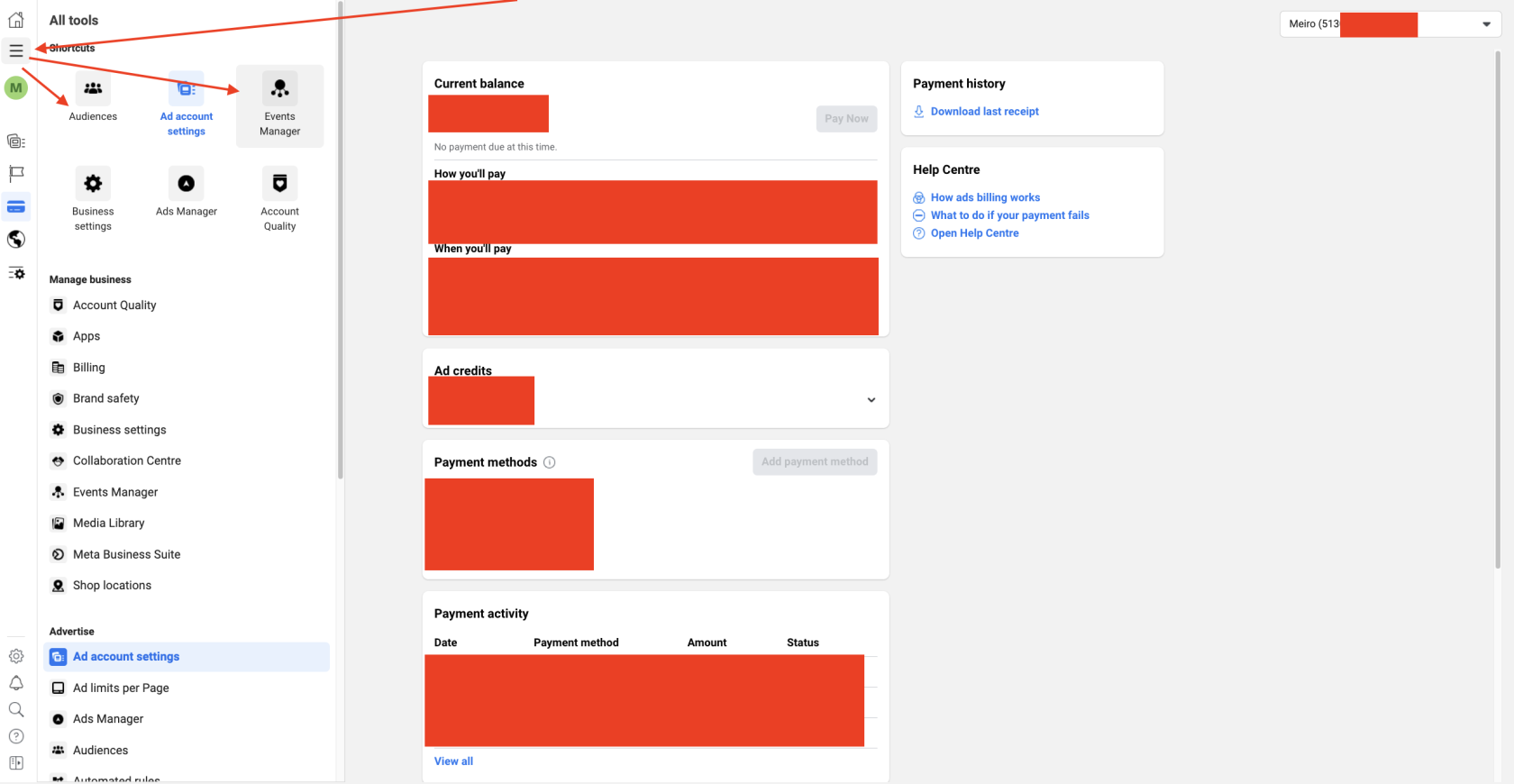 > Meiro's Pixel & "Meiro Segment" events
Remember: exports from Meiro will be all visible under the same event "Meiro Segment"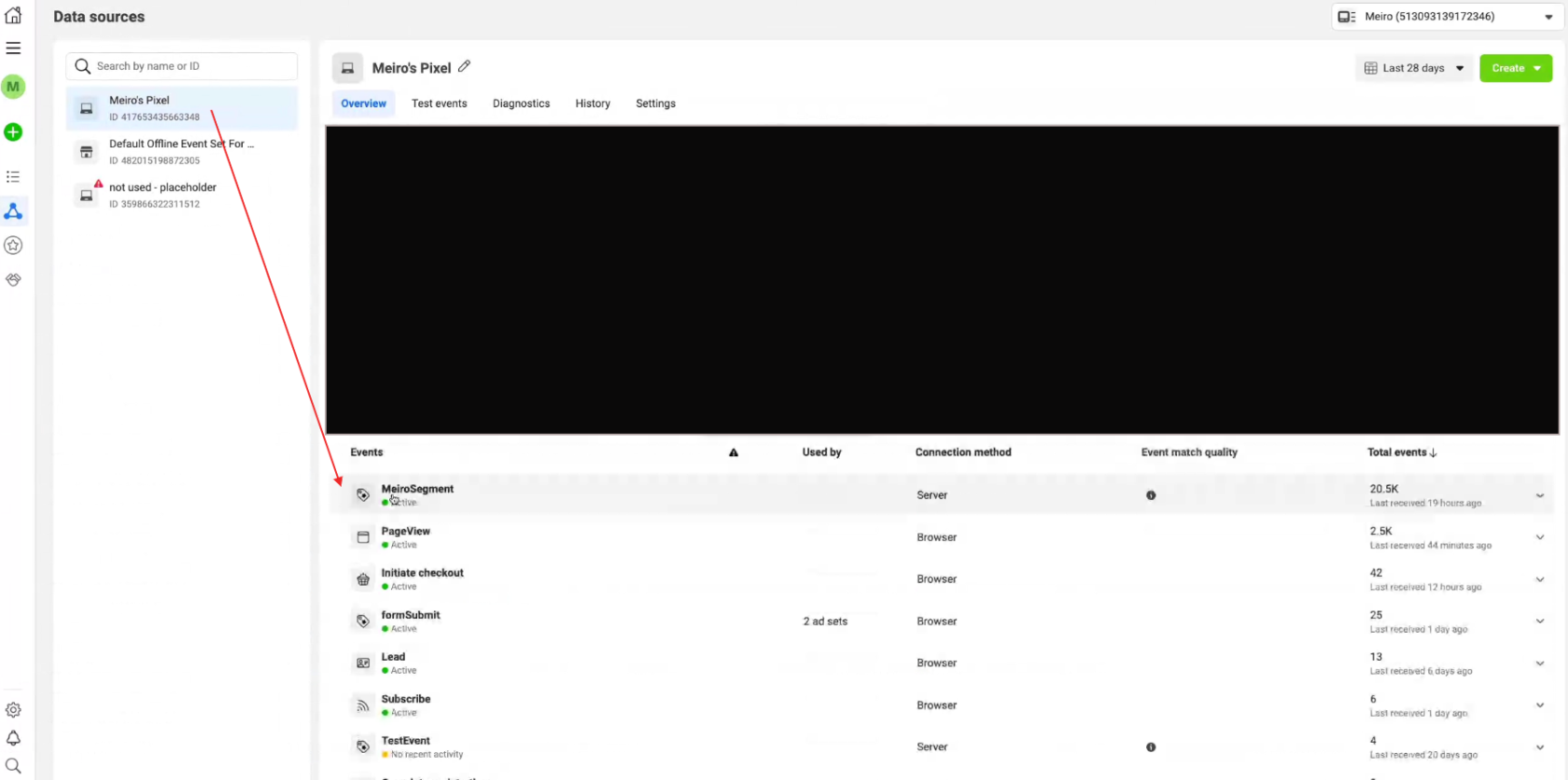 >View Detail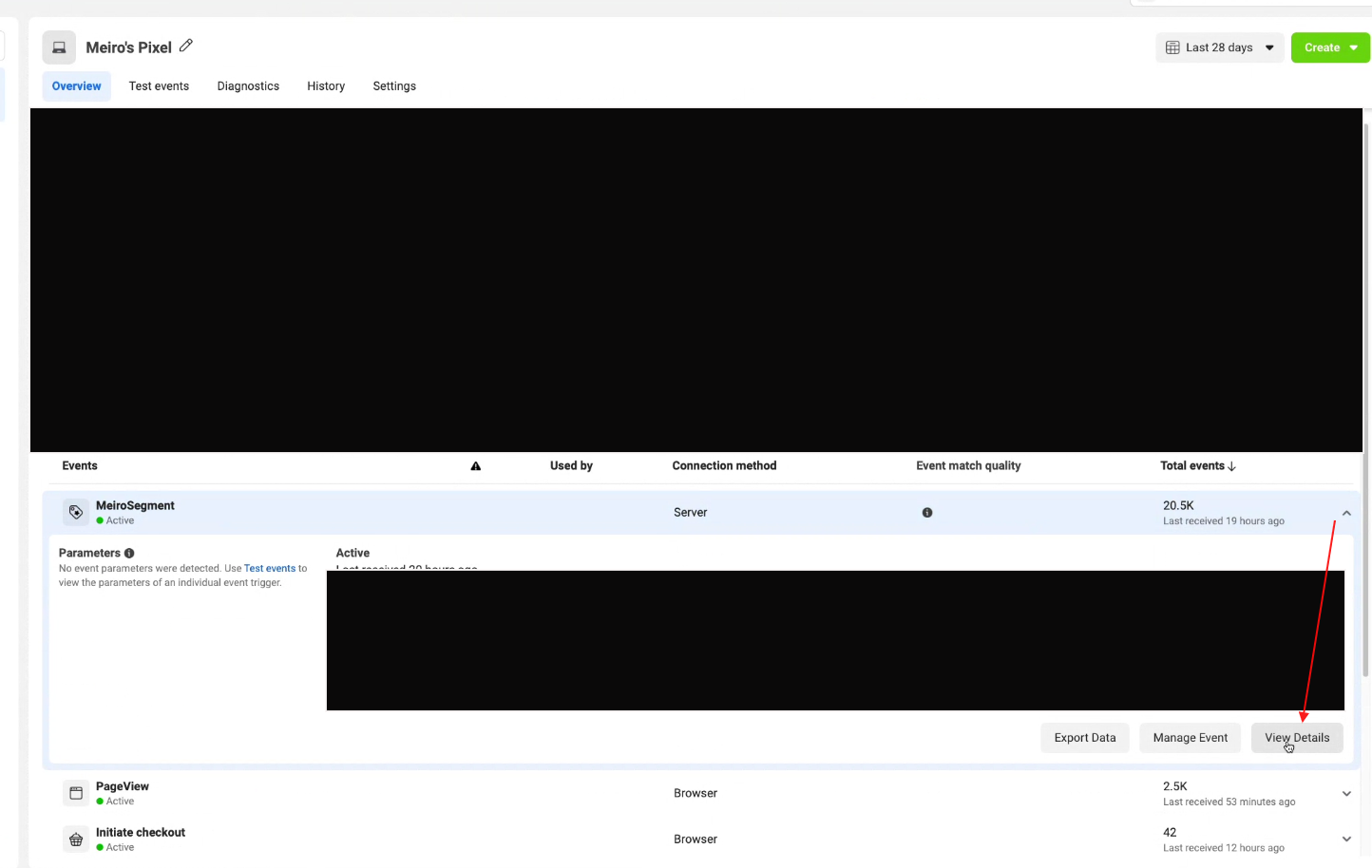 > Recent Activities

> In "Recent Activities" each exported event is visible, also URL where visible is "segment ID" that can be used to create an audience on Facebook.
Create a Facebook audience with exports from Facebook Pixels
To create a Facebook audience from Facebook Pixels, go to Audiences: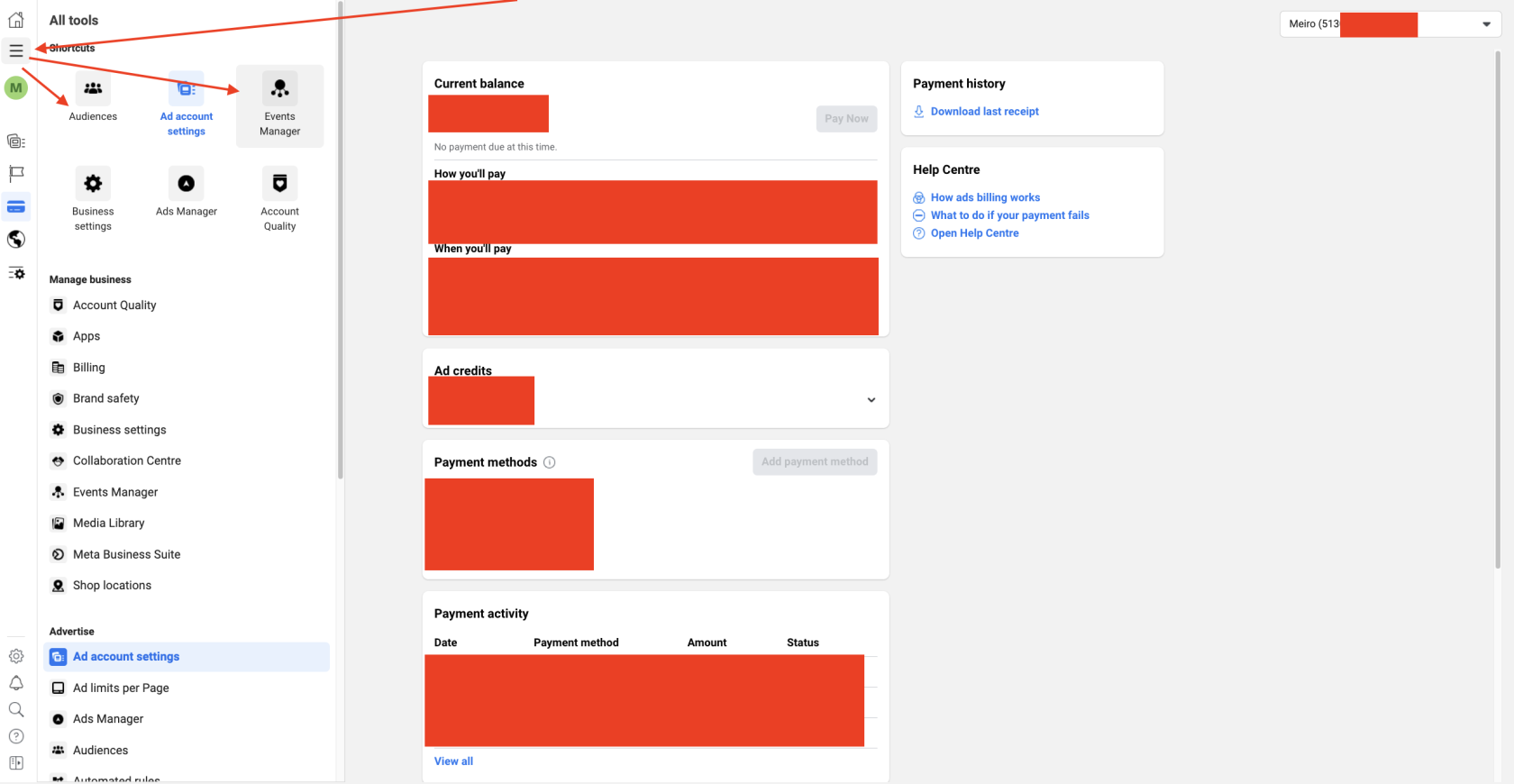 Select an audience you wish to update or create a new audience and insert:
Source: Meiro Pixel
Events: Meiro Segments
Retention: (optional)
URL: insert Segment ID (it can be found in the Facebook Pixel Recent Acitvites> URL, described above). Example: For URL https://www.meiro.io/MeiroSegment-42/audience_name-my audience, you should insert MeiroSegment-42.
Create an audience.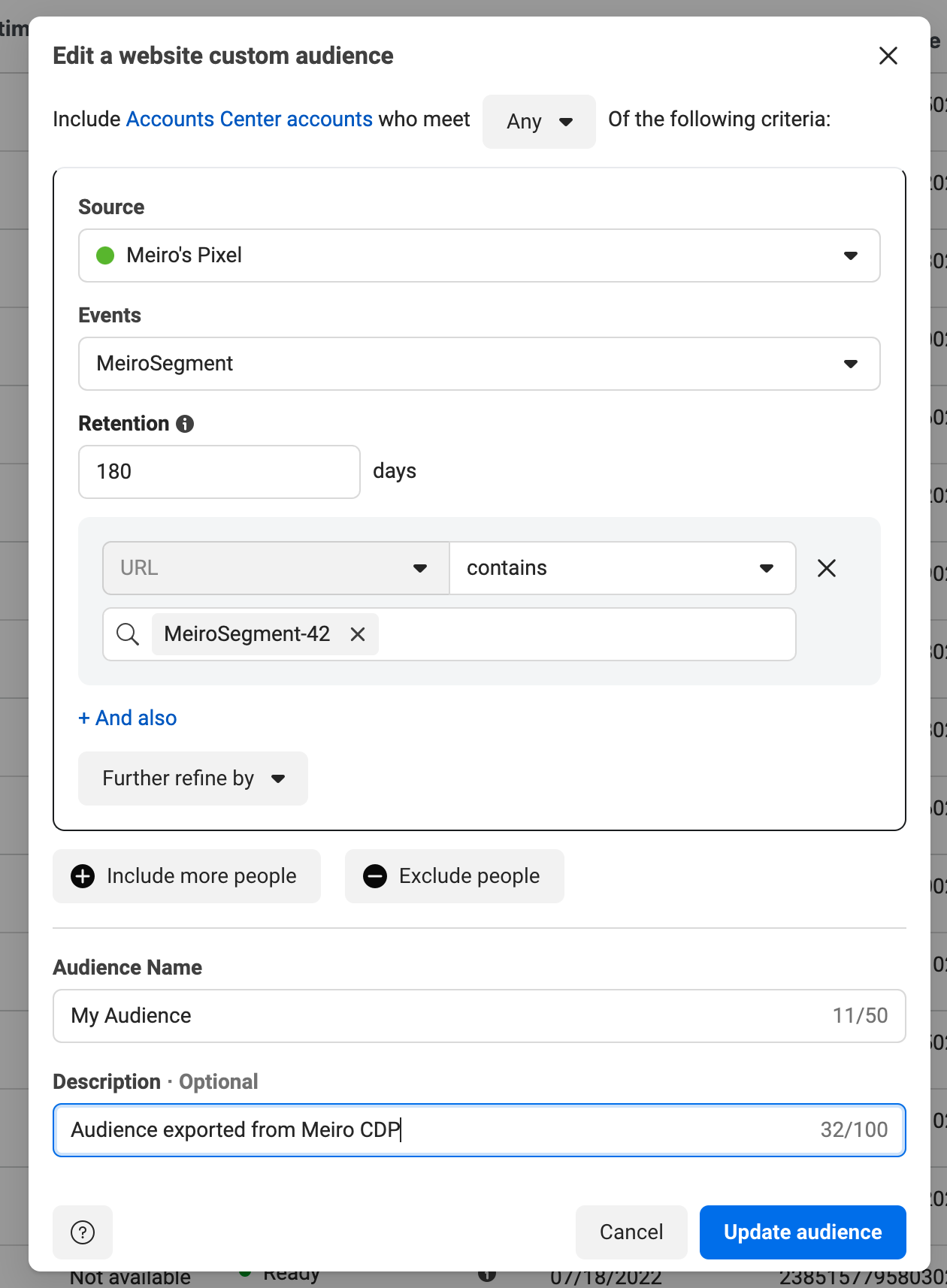 FAQs
How long does matching between exports from Meiro and Facebook take?

Depending on the size of the exported audience, matching can take anything from minutes to single-digit hours.

Update with the interface of Facebook can take 2-3- days, though.

In case of doubt, please check with the Meiro team.

Will Facebook Audience be updated automatically when I schedule export on a regular basis from Meiro to Facebook Pixel?
Yes, the audience created from Facebook Pixel should be updated automatically by Facebook.

Will the upload of the events be incremental or overwrite existing audiences?

The load of the events is incremental to the same "segment ID". Please note that the cookie will be in the Facebook Ads Audience for the number of days defined while creating the audience on Facebook since the last event sent for this cookie.